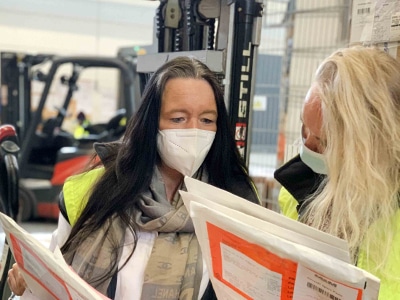 St. Gallen, February 22, 2021. The Militzer & Münch Group offers a time-critical spare parts supply service at its location at Hamburg Airport, available around the clock, seven days a week. Especially in case of an "Aircraft on Ground" (AOG) alarm, customers make use of the service. Recently, Militzer & Münch has extended this offer to other industries that rely on time-critical spare parts deliveries – among them the maritime industry and agricultural machinery manufacturers.
The air freight office of M&M air sea cargo GmbH, which offers this service, is located in the immediate vicinity of Hamburg Airport. At present, one of the main focuses of the 26 employees is on aircraft spare parts. "Our current end customers are various regional and local airlines in China, Taiwan and India," says Dirk Bukowski, Regional Manager North Germany. "We have now extended this service to other industries that rely on the short-term delivery of spare parts. These include the maritime industry, manufacturers of large vehicles such as combine harvesters and forklifts, as well as wind power plants and the respective workshops." The special Militzer & Münch service can also be used for the import and export of high-value, low-volume products such as cell phones.
On duty, non-stop
The special feature of this service: Militzer & Münch assures its customers of a reliable 24/7 service, completely independent of the logistics service provider's other workload. Shipping and warehouse stock of the Militzer & Münch branch office in Hamburg are steered via a control tower, which acts as an interface to the customers and partners.
"Our service is already attracting a lot of interest from the marine spare parts sector and from manufacturers of utility vehicles, who rely on an immediate response and the fastest possible transport in the event of an emergency," says Jennifer Bastkowski, Branch Manager Airfreight. "Our team can access our own warehouse directly – which has not been the norm in the industry for a long time. The warehouse is connected to our office and equipped with pallet racks and an innovative warehouse management system. It is located just two kilometers from Hamburg Airport. Thanks to all these factors, we can process urgent orders within a very short time."
Stable despite the pandemic
During the Corona pandemic, there is an above-average number of orders for spare parts that are classified as extremely urgent and have to be dispatched immediately – often outside normal working hours or on weekends and holidays. As a result of the Corona crisis, there is a much greater amount of work involved in booking orders. "In the periods leading up to the pandemic, we transported a significant portion of our air cargo as so-called "belly loads" aboard passenger aircraft that departed at a very high frequency," says Jennifer Bastkowski. "The restrictions on passenger air traffic due to COVID-19 have ensured that this cargo space is largely eliminated – especially on the long-haul route to China."
Thus, the rapid dispatch of time-critical spare parts constitutes a challenge, since for shipments of this type there are currently almost only cargo flights available, which, however, operate irregularly during the pandemic. COVID-19 has thus created some hurdles that make order planning more complex: Flight connections and the rates charged for them have to be checked by the Militzer & Münch team for each individual order, and coordinated with the contacts abroad. M&M air sea cargo GmbH was able to master these challenges and stand its ground in the market, despite the Corona pandemic.