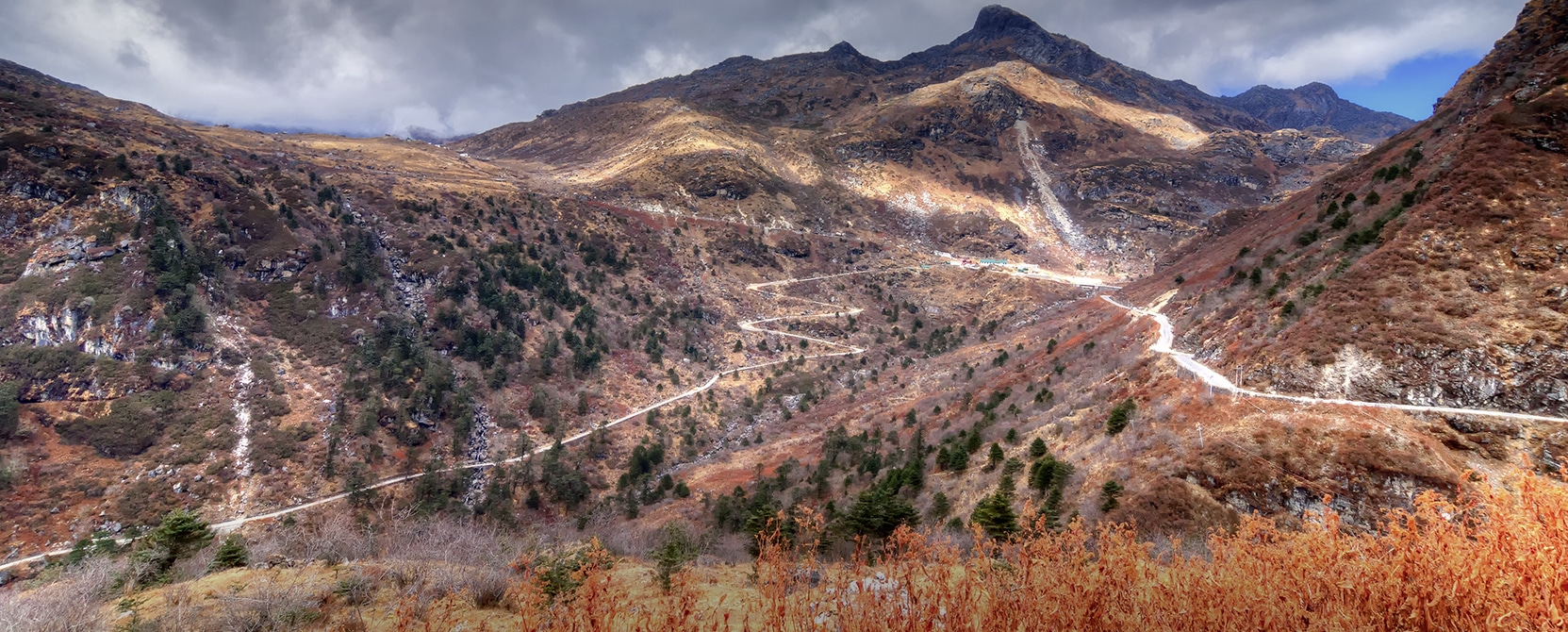 For decades, Militzer & Münch has been operating in numerous countries along the New Silk Road, with mainly the logistics market in China posing a big challenge. For cultural reasons, decision processes follow a different pattern than in Europe. Militzer & Münch wanted to know more about these processes and commissioned the University of Applied Sciences in St. Gallen to draw up a logistics market study on the subject of the Belt and Road Initiative (BRI).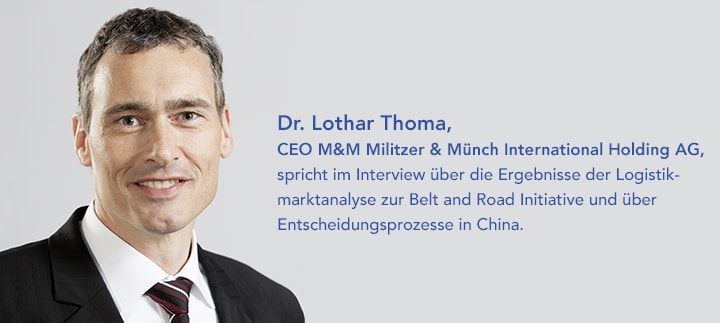 Dr. Thoma, what are the biggest challenges for logisticians in China? 
Logisticians from abroad have to invest a lot of time and energy to prevail in the Chinese logistics market. We have been actively operating in China since 1981, starting with a representative office. Then, in 1994, we founded M&M Militzer & Münch Tianbao Int'l Forwarding Co. Ltd. in China, and were one of the first European companies to be granted the Forwarding (A) License. Our many years of experience have taught us that decision processes at Chinese top management levels are highly complex. Therefore, it is important for us to know as much as possible about the Chinese logistics market and the processes of decision making. The results are not only intended to allow us to make progress in China; they are also meant to help us continue operating successfully along the New Silk Road.

Why is the market study not only interesting for Militzer & Münch?
Thinking outside one's own structures and networks helps. Which is why the results of this analysis are very interesting for us as well as for other logistics companies operating on the Europe-China trade lane. We find the decision processes easier to understand, and we can better assess the logistics market along the New Silk Road.

It is especially the New Silk Road that gains more and more importance for international logistics projects. Who are the decision makers in these global processes? 
Over the past few years, we have already noticed a shift in decision making in the global logistics market. Today, decisions on logistics are made mainly in Europe and the USA. In the future, these decisions will increasingly be made in China, as big Chinese enterprises are more and more forcefully conquering the world market and developing their own supply chains.
What did you learn about the decision processes in China? 
Our own experience was confirmed. 80 percent of the logistics orders in China in connection with the Belt and Road Initiative are awarded to Chinese firms. There is little chance for European logistics companies in China directly – opportunities present themselves mainly in those countries where China is not or just minimally active. Nevertheless, there is the possibility for logisticians to succeed in China, provided they are familiar with the specifics of the market.
What should logisticians pay attention to concerning logistics processes in China?
There are various aspects to be considered. For one, a performance bond in the amount of ten percent of the contract sum is to be issued when the contract is awarded. Moreover, contracting entities in China check the share capital and review the business reports of the logistician.
But perhaps the most important factor for a contract to be awarded in China is trust in the logistics service supplier, trust that has grown in long years of relationships and partnerships. To this aim, logistics companies should in particular develop partnerships with Chinese State-owned Enterprises (SOEs) or with Chinese companies that are closely networked with SOEs.
What are the conclusions logisticians can draw from this result?
For logistics service providers, it is helpful to operate their own local branch office. This is essential in order to successfully build relationships. Having a local management or local partners is especially useful here. It's the best way for a company to familiarize itself with the cultural differences and to be able to understand them.
Did the market analysis generate any other central results? 
Apart from our objective to learn more about the decision-making processes in connection with logistics projects in China, we also wanted to know what share logistics services have in the Belt and Road Initiative. And on this, we got a wealth of detailed information.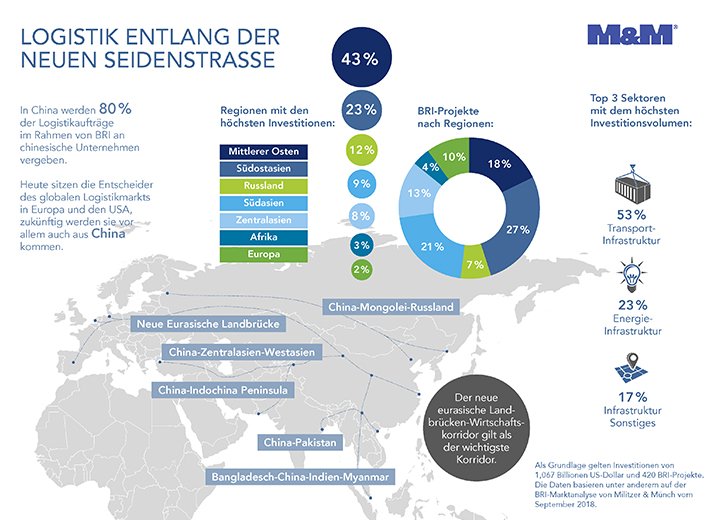 Central results of the Militzer & Münch logistics market study on the Belt and Road Initiative (BRI).
One central finding of the analysis for instance demonstrates that the Middle East is the region with the highest investments. This means that 43 percent of the BRI investments are flowing, among others, into the development of the infrastructure here. Yet large sums are not only invested in the Middle East, but in South East Asia and Russia, too. These are also the regions where the biggest number of projects is being executed – for instance for the development of transport and energy infrastructure.
All these findings confirm our strategy of increasingly operating in these regions via our own country units. That we commissioned the market study clearly pays off for us in more than one respect.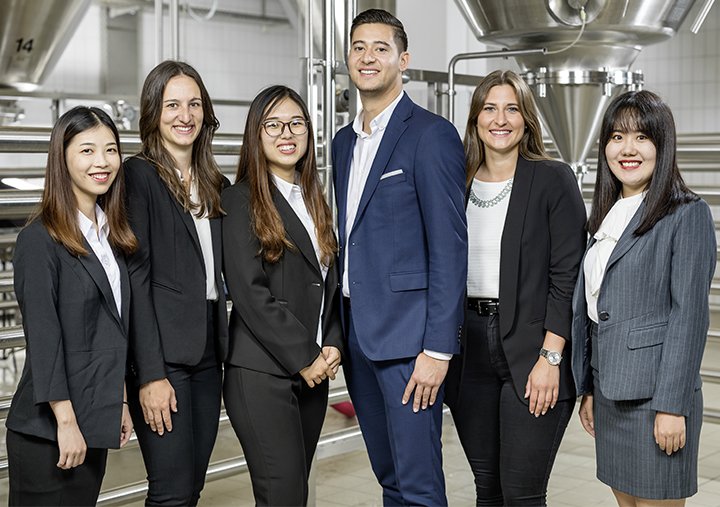 Cooperating with a student team
For the market study, a project team from the St. Gallen University of Applied Sciences and from Shanghai University set to work on behalf of Militzer & Münch. In charge of the analysis at Militzer & Münch is Christoph Hollenstein, Head of Group Controlling, M&M Militzer & Münch International Holding AG. Among others, the students conducted numerous personal interviews in Shanghai as well as phone interviews with decision makers from the logistics industry. The project team also collected significant data on highly promising investment regions along six BRI corridors, and the distribution of the BRI projects. The team based the market study on an alleged investment sum of 1.067 trillion USD and 420 BRI projects.