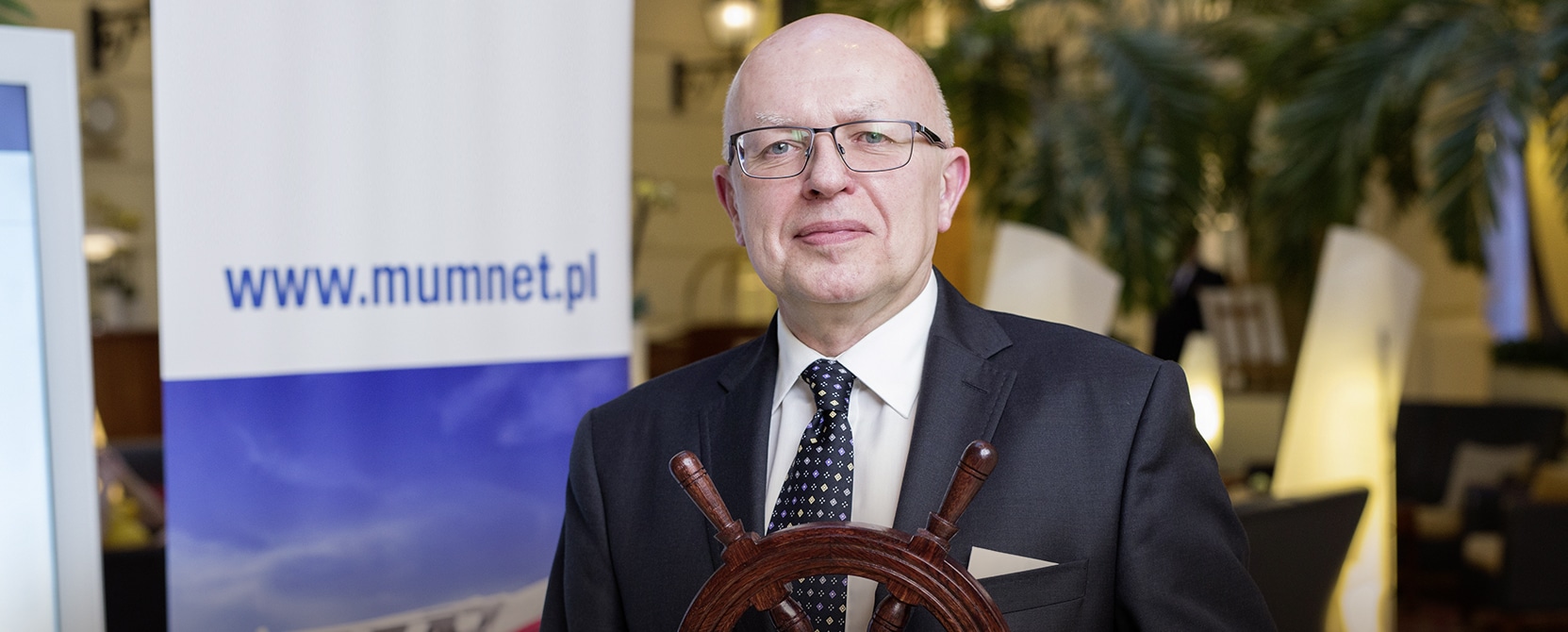 Wojciech Łyżwiński has been with Militzer & Münch Poland for more than a quarter-century. This year will be his last as Managing Director of M&M air sea cargo S.A. Afterwards he will continue as Chairman of the Supervisory Board. In this interview he speaks about his journey with Militzer & Münch: the challenges, the achievements, and the future. 
What was your motivation to work in the logistics industry? And what did you do before you joined Militzer & Münch in 1992?
I worked as administration director at Warsaw's School of Economics, the biggest economic school in Poland. The political transformation in Poland in 1989 gave the Polish people many possibilities. A lot in our lives changed: both in politics and in economy. It was a huge chance for us to develop, to move on. I asked myself: `Am I ready to reposition my life?´
I think change always offers an opportunity to achieve new goals. So after getting a phone call from my colleague at the academy, who proposed starting a new company in the logistics area together, it didn't take me long to make up my mind – and I said `yes´.
I had to learn a lot of things from scratch. Studying these new tasks was very exciting. After a few days of training in Germany, I began to hire new employees to join our organization. The first of them was Marek Ziemniewicz – a newly promoted graduate in transportation of the Warsaw School of Economics. He still works in our company as a board member and operational director.
What are your tasks as Managing Director M&M air sea cargo S.A.?
I am responsible for the company's development and for strengthening its market position. Our management team consists of two persons, who are also members of the board: Marek Ziemniewicz supervises the operational side of the company as well as the sales of our freight services.
I manage everything else: our branch offices in Poland as well as finance and HR issues. I also represent M&M air sea cargo S.A. in Polish organizations like the Polish International Freight Forwarders Association. In this organization, for example, I was a member of the Management Board until June this year. Marek Ziemniewicz took my place in the new term.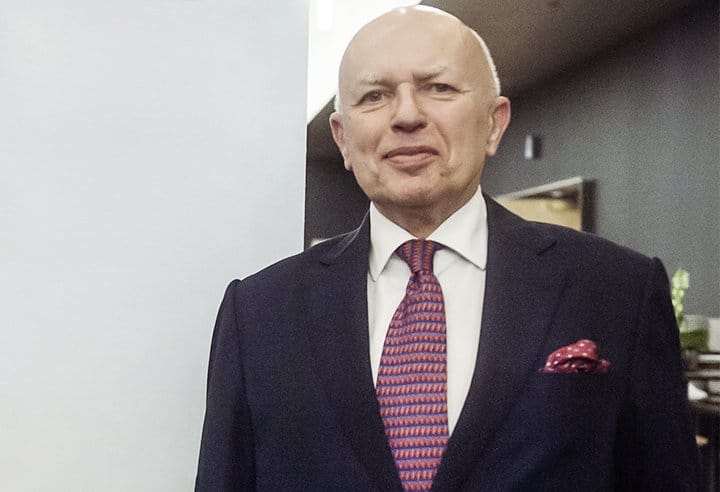 Wojciech Łyżwiński
Managing Director M&M air sea cargo S.A.
What are the biggest challenges in your position?
We've come a pretty long way in our history. A successful way. We started as a small team doing customs clearances. Today, in 2018, we operate in all areas possible: air, sea, rail and road freight. My biggest challenge was to create a team of great specialists and to keep them for many years. Because the most important asset of our company are the people and their know-how.
You can compare it to a football team that plays for the cup. If the team wins, the best players often want to change club colors. I managed to keep the basic players. Many of them have been working in our company for up to 25 years. They play an important role in the growing volume of TEUs transported and in the increasing sales figures of Militzer & Münch Poland.
What were the most important milestones for Militzer & Münch Poland in the last 25 years?
We built up a customs agency first. The next steps were an air freight department and afterwards a sea freight department, and then FTL transports. We opened new offices in Wrocław, Kraków, Pruszków near Warsaw, and Rzeszów. Militzer & Münch Poland gained AEO status and is ISO certified.
In 2017 we decided to move forward, launching the very successful road division under the management of Radek Brejnak. We also created a strong sales team managed by our Sales Director Artur Wojtczak, who helped us to increase our sales by over 30 per cent.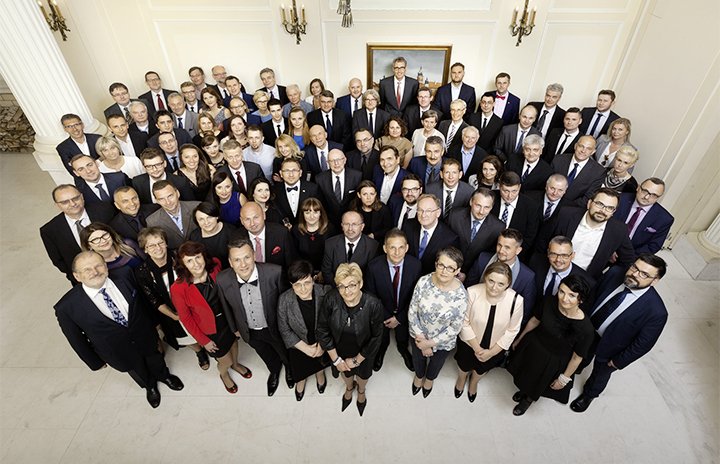 The team of Militzer & Münch Poland.

What were the most important logistics projects that have been realized in 2018 so far? What are the main logistics projects for the second half of the year?
If you follow this and last year's issues of `Compass´ and `Team & Motion´, our internal employee magazine, you will come to the conclusion that Militzer & Münch Poland has become a rising star in the holding. We are definitely one of the most active companies in the group. I truly appreciate it, and I am so proud of my team.
We handle a lot of interesting projects and follow the trends of the Polish market – which sometimes can be difficult due to a fierce competition between all the global players in the logistics sector that are present in Poland. But we never give up – quite the opposite.
The volume of goods exported from Poland has increased rapidly. We are part of that development by, for example, handling milk, fruit and beverage exports. On the other hand, the increase in exports necessitated some additional regulations and restrictions. We had to move on and implement some new solutions to take care of our clients' goods: therefore we applied for Regulated Agent status. With this certification, we can guarantee the security of the supply chain for cargo that is transported on passenger aircraft.
Are there any strategic changes at M&M air sea cargo S.A. planned for this year?
After 26 years with Militzer & Münch, I am retiring at the end of this year. Until then, we will have to complete the composition of our Board. But I will stay close to the company as Chairman of the Supervisory Board. So I will keep on supporting my colleagues and especially Marek Ziemniewicz, who will take over my position. I trust in his success with all my heart.
Earlier changes like promoting some colleagues upgraded the quality of our everyday work and pushed us to another level of development and management. For example Artur Wojtczak, who is extremely active in promoting the cooperation between the Militzer & Münch offices worldwide and establishing B2B connections – he now is our new Sales Director. Our Business Development Manager Paweł Szelest acts as Head of Procurement and Tender Manager, and Beata Antolak was promoted to Financial Director. I am a lucky person to be able to attract the best people from the Polish market.
For which industries is Militzer & Münch Poland mainly active?

We are active in all areas: starting from food and beverages shipped out by air or in reefer containers to air shipments that are temperature controlled. Our team also handles complex heavy weight project cargo, for example repositioning factories or transporting huge machines abroad.
What is the potential of Poland as a logistics location?

Poland's potential is huge: the country is centrally located in Europe and we continuously record excellent economic development. Our country is a hub for rail freight, sea shipments – with direct connections from China – and has many logistics centers used by global companies. I see the future in bright colors. Let our success story continue.
Militzer & Münch Poland
Founding year: 1991
Member of PIFFA ( Polish International Freight Forwarders Association)
IATA Cargo Agent
ISO 9001:2015 certified by Lloyd's Register Quality Assurance
AEO (Authorized Economic Operator)
Employees: 65
2 offices in Warsaw; branch offices in Wrocław, Rzeszów, Kraków, Pruszków
Products: air, sea, rail and road freight, customs service, project logistics
Among the main customers are companies from the automotive sector, from machine engineering, from the aviation, cosmetics and fashion industries, the electronics and food sectors